Enjoy the city on a limited budget
Not everything in Copenhagen costs big money. Therefore you can easily have a few really nice days here without being ruined. So this list is a great start. More exciting destinations will be added soon so check back often.
So here is my unique guide to a some fun, interesting and sometimes odd, spooky and strange experiences. So here we go!
The genetically modified mermaid
Along Langelinie a very different mermaid resting on a pile of stones. In fact genetics have made her completely unique and this raises many questions. Created by artist Bjørn Nørgaard.
Langelinie Allé 17
Pater Noster, the elevator of death
At Axelborg in Copenhagen you can still try the somewhat unique Pater Noster-elevator. What makes it so special is that it never stops and you won't find any security doors here. A ride here can be more breathtaking than at the adjacent amusement park!
Also, keep in mind that in 2015 there was a fatal accident here. So have fun…
Vesterbrogade 4
The Black Diamond
Have you ever heard about the Black Diamond? This is an interesting library famous for it's bold architecture and beautiful location just close to the canal. Additionally lots of activities going on inside the building. And yes there are windows in the Diamond but they are hard to spot.
Søren Kierkegaards Plads 1
The alpine area at Botanical Garden
You can always enter the Botanical Garden for free. So just walk around and enjoy exotic plants from all over the world and make sure not to miss the cool alpine area. Because here you can walk on small trails and in the same time enjoy a large collection of plants from the alpine world. Moreover, this park has been around for some 400 years.
Gothersgade 128
A walk along Dyssen
If you are interested in alternative lifestyles a walk along Dyssen could be the right activity a sunday afternoon. Surely you will enjoy several imaginative houses built with simple means. And despite the fact that the area is centrally located in Copenhagen, a peaceful calm prevails. In fact, over here you are still in christianina.
Walk across the Dyssebroen from Christiania and you are at Dyssen
The man-eating troll at Glyptoteket
This is a very scary dude and now he´s in hunt for Christian blood. Indeed you will find this terrifying character in the small park just behind Glyptoteket. So with a little imagination you can create a really terrifying selfie here.
Dantes Plads 7
The Tuborg Labyrinth
Spend some quality time in this labyrinth created by the famous beer company Tuborg. In brief It was erected back in 1993. In fact, the open area in the middle of the labyrinth is designed as a Tuborg beer label. So just get in, and hopefully get out.
Pile Allé, Frederiksberg
The death…
It's not so easily to spot this statue from the street. Because a tall bricked wall cover it well for all the happy people who pass outside. After all you can probably see there is a good reason for this. Because the statue is sooo sad and depressing. And the origin? It´s actually inspired by a fairy tale of HC Andersen, The Story of a Mother.
Sankt Petri Church
Freetown Christiania
Welcome to the world famous free-town founded in 1971. So just walk around and experience the hippie vibe. There are also restaurants and bars here if you get hungry.
In some areas photography is forbidden, so respect the signs. Another rule in Christiania is to not run. Because here running means there's something to run from or away from, and the culture of fear is something they like to avoid.
Prinsessegade, main entrance
The 6 forgotten giants
In and around Copenhagen several wooden giants awaits you. In fact you can spot one of them in Christiania. Additionally the others will be found in the outskirts of Copenhagen. So with a good bike it´s easy to seek them all out. Furthermore, do you need a hint how to find them? Just check out their map.
DieselHouse
Once upon a time B&W 2000 was the worlds largest diesel engine. Huh. At this unique museum you can still experience this monstrous machine. In fact, if you come here on the right date you will see this thirsty beast in live action! (1st and 3rd Sunday every month at 11am). Here you can also see an exhibition about Selandia, the worlds first diesel powered commercial ship. And yes, all is for free. Check their website for more info.
Energiporten 8
Assistens Cemetery
Visit this magic cemetery for reflection and relaxation. Because in this dreamy environment you can find yourself and in the same time visit the grave sites of several famous people. For instance HC Andersen, Søren Kierkegaard and Ben Webster rests here. This is quite a large area so make sure you have plenty of time.
A spooky incident here might be the one about Giertrud Bodenhoff. Because she was buried alive under anesthesia in 1798, only to be awakened and murdered by grave robbers.
Kapelvej 2
Hubbard's office in Copenhagen
Here is something strange over at the Church of Scientology. Because right from the street you can admire L. Ron Hubbard's almost perfect office. I guess it will be ready for him when he returns to earth? Finally, he left his hat on the desk.
Jernbanegade 6
Superkilen Park
Very attention-grabbing area. Painted streets and pavements together with interesting things from all over the world. For example palm trees, three tonnes of soil from the Palestinian Territories, a fountain from Morocco and litter bins from England. For sure this is a a colorful excursion for all. However it is not as vibrant now as when it was new. Because over time the paint has faded and worn down.
Designed by famous Bjarke Ingels Group.
Nørrebrogade 210
Christiansborg Palace Tower
The highest tower, 106 meter, in Copenhagen. So take the free elevator and you Will get a magnificent view of Copenhagen. However some days you might have to queue to get in and up. There is also a popular restaurant in the tower.
Christiansborg
The very little museum at the huge Magasin Du Nord department store
Learn everything about this iconic department store in Copenhagen. Because in this small museum you will find out how it all started. However It can be a bit tricky to find the museum. Because not even all employees know how to get there.
By the way, the famous HC Andersen lived here during a period. In fact, you can see the steps up to his room right in the museum. And On the third floor you can visit the actual room where he lived. It is the same place but the decor is reconstructed. So just ask the staff kindly to show you the room.
Kongens Nytorv 13
Flyvergrillen, the flight grill
Just close to CPH airport you will find Flyvergrillen. Here you can watch the planes depart and land. And if you get hungry you can have a tasty sausage and some french fries too. This business has been going on for a while. Actually it started all the way back in 1972.
Amager Landevej
Wehrmacht graffiti in Kødbyen, meat district
When German Wehrmacht marched into Copenhagen in April 1940 they took control of Kødbyen (the Meatpacking District). In brief the bored german soldiers on guard started to make graffitti on the brick walls. And still to this day you can come here and read their messages from the war.
Staldgade 35
The Powder House at Kastellet
At the Kastellet a small house is to be found. It is well hidden so you might have to walk around for a while before you spot it. This former storage of black powder might look peaceful today, but in the period 1817-1847 it was a terrifying prison for 30 slaves. Many carvings on the bricks.
Gl. Hovedvagt, Kastellet 1
Amagerbanen, a trolley in Copenhagen
Ride a trolley just like Indiana Jones, in the middle of Copenhagen? Yep, at Amagerbanen you will find 1200 meter of rail to explore. This place is open during summer season. So check their website for the time table. It´s free but they will be happy if you donate some coins.
Wermlandsgade 33B
Battle of Copenhagen 1807
In 1807 England attacked Copenhagen in what can be described as a terrorist attack. Undoubtedly the target was civilians in the city.
Since English cannonballs could be found and over time they were built into the walls as a memory of the event.
Sankt Gertruds Stræde
The propeller at Shell house
Visit a memorial of a spectacular attack on Gestapos headquarter in the city centre in March 1945. Indeed the propeller on the wall is a cast from on of the Mosquito planes who carried out precision bombing of the building. More info here.
Corner of Nyropsgade and Kampmandsgade
The smoking angels
Do angels smoke? Probably. On Strøget they do anyway. And here they have been smoking since about 1870! But how is this possible? In fact, they adorn the door to a former tobacco shop. Even more, this smoky location was started by the Hirschsprung brothers, who traded in tobacco. So the name Hirschprung is these days synonymous with the famous art collection.
Østergade 6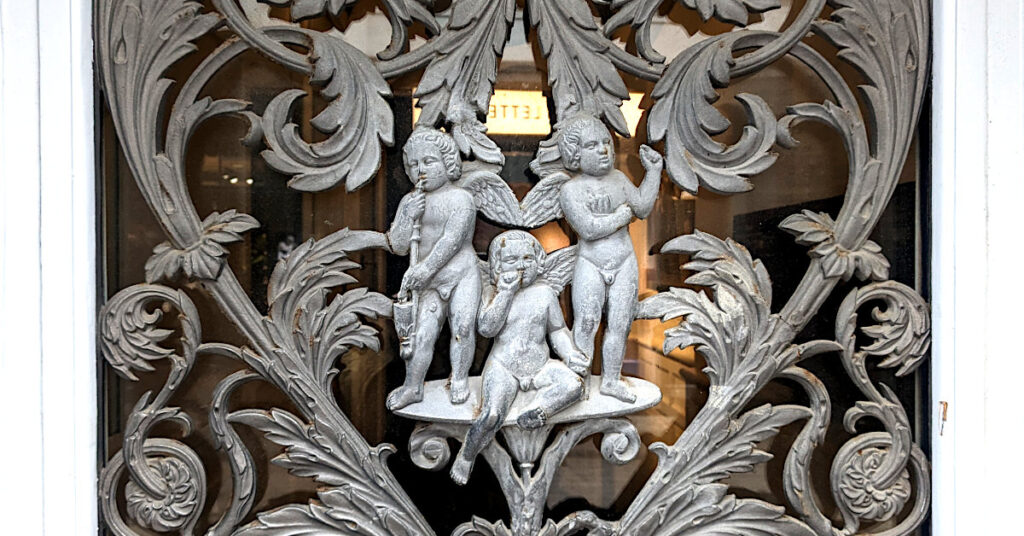 A different view of the Marble Church
On the top of Denmarks first parking garage you will get a fantastic view of the Marble church from above. So take the stairs up to the roof and be amazed.
Dronningens Tværgade 4
The lion with the human face
In one corner of Kungens have you will find one of Denmarks eldest outdoor statues. But that´s not all because Its face resembles a human! Created by Peter Husum in 1617-1625, the statue is a near copy of an antique marble sculpture at Capitoline Hill in Rome. By the way, feel free to look at my post about art in Copenhagen.
Øster Voldgade 4A
The origin of Lego?
If you take a closer look at Vor Frue Kirke you can discover decorations that really remind you of Lego! So whether they really have something to do with the famous building blocks, we want to remain silent.
Nørregade 8
Folkehuset Absalon
Why not take part in an exciting cultural center that was originally a church. In fact the weekly program is packed with activities that are completely free of charge. Here you can also try Fællespisning (eat together) for a modest fee.
Find out more here.
Sønder Blvd. 73
The little face at Hovedbanegården
Many people pass the main railway station every day. but few see the small, strange face that is placed a little way up on the wall. And it has been installed there since the 60s. Indeed no one knows for sure what it is about, and we may never get an answer. But most likely, it is some employee who wanted to end up as a statue among other celebrities who are in the same hall. So look for the face just inside, behind the entrance doors.
Entrance, Vesterbrogade
The old execution site
Just next to the road there are some larger rock outcroppings and a slab of concrete. It could have been anything but is an eerie place where executions took place between 1946-1950. In fact, this was one of the two places where the death sentences in the Danish court after the occupation were carried out.
Norddyssen 60
Bakken or Dyrehavsbakken
do you want to visit a large amusement park without paying admission? Then Bakken (or Dyrehavsbakken, its official name) is the right place for you. Because this is actually the world's oldest amusement park. In fact, it was founded as early as 1583.
And it´s location in a beautiful forest just outside Copenhagen makes it a classy full-day excursion. Besides, don't miss a ride with the old rickety roller coaster, made of pure wood. Finally, if you're into roller coasters, it might be interesting to know that the one at Tivoli is the oldest currently operating in the world!
Dyrehavevej 62
Stellings Hus
This is a famous house that few know about. And sad to say, people weren't too happy about this house when it was finished back in 1937.
The famous architect Arne Jacobsen had used new building materials and round shapes, which at first were not liked by everyone.
The lamps seen on the first floor are also designed by Jacobsen from the same era.
Gammeltorv
The vines at Kuglegården
The vines at Kuglegården are of the Malvasia variety from Madeira. DNA tests of the specimens at the Kuglegården have later shown that it is really is Malvasia, which is the first grape variety that was planted on Madeira back in the 15th century. Rumor has it that Danish sailors brought plants from Madeira and later brought them back when the plants on Madeira died out.
Danneskiold-Samsøes Allé
The green roof at Riksarkivet
Visit a park on the roof of the National Archives. And here one had to think in order to solve some questions. The cultivated parts are built up with special soil containing, among other things, crushed brick, in order to retain moisture in the soil. Indeed the roof is built with an ingenious system to be able to conserve rainwater without burdening the municipal sewage system. Lastly, this is a nice place to chill out on a hot summer day.
Kalvebod Brygge 32
The giant Tuborg bottle
This observation tower in the form of a 26 meter high Tuborg bottle originally stood on the current city hall square. In brief it contained, among other things, Denmark's first elevator. But the lift has now been replaced with stairs. However nowdays it does not seem possible to go up the tower.
Dessaus Blvd. 4
Kineserbyen
Welcome to a relaxing part of the busy city. Because here it is exactly like being in a village in the countryside. So just walk around and enjoy the silence and the greenery. The buildings here date back to the time when staff of the state railway company lived here.
Otto Busses Vej
Grundtvigs Kirke
Up on Bispebjerg there is a magnificent church with an impressive architecture. Furthermore it was built in memory of the priest Nikolaj Frederik Severin Grundtvig. While it is possible to accommodate 1,300 people if necessary, 700 is the norm. The church was completed in 1927.
På Bjerget 14B
Sømods Bolcher
Interested in just sugar? Because at the caramel factory, it's sweet that counts. Here you can see the craftsmanship as they create all kinds of caramels. Entrance to the factory is free. More info here.
Nørregade 36
Visit the best museums for free 2023
Some of the most interesting museums offer free entrance at different times. It is an excellent opportunity for those on a tight budget to experience the best at no cost. this list shows my favorites. There are a few more that offer free entry.
So here we go:
Museum of Copenhagen, free entry on Wednesdays. Stormgade 18
Thorvaldsens Museum, free entry on Wednesdays. Bertel Thorvaldsens Plads 2
Glyptoteket, free entry on the last Wednesday of every month. Dantes Plads 7
Davids Collection, always free entry. Kronprinsessgade 30-32
The Bank & Savings Museum, always free entry. Overgaden Neden Vandet 11
Nikolaj Kunsthal, free entry on Wednesdays. Nikolaj Plads 10
Jarmers Plads
How could a rather inconspicuous place gain a worldwide reputation among skateboarders? Yes, so hot that even the shoe brand Vans paid attention to the area by naming a shoe model after it. Keep wondering but feel free to visit the place to understand for yourself.
Jarmers Plads
Green Kayak
Borrow a green kayak and take a trip in the beautiful canal. But keep in mind that you are expected to pick up some litter along your route. More info is available on their website.